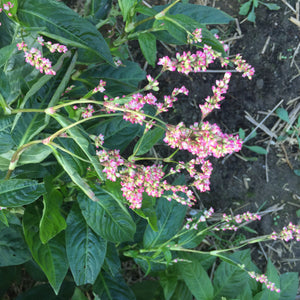 "Senbon" Persicaria Tinctoria Pink Flowering long leaf Indigo
THIS PRODUCT DOES NOT SHIP OUTSIDE OF UK.
This pink flowering variety is widely grown in the USA. Indigo pigment is found and collected from the leaf via passive extraction (soak in water) method or composting. Leaves are long and tapering, on a pink stem, early trimming is required to promote bushing. Perfect for raw leaf dyeing. 
Sow seeds into tray, prick out and pot on to establish. Prick out center leaves to encouraging bushing. Plant out after the last frost. 
Best planted in a sheltered area, in full to partial sun. Minimum 8 hours sun. 
Enjoys good quality nitrogen rich compost and is a heavy drinker. Water well. 
Just as blooms are beginning to show ( green flower spikes from central stem ) harvest the branches leaving 6-8 cms of stem. This will encourage the second harvest to come back thicker or trim bushels prior to encourage growth and bushing. 
Harvest before buds show to achieve best pigment.  Harvesting after plants are blooming will alter the indigo quantity and quality.
Another good outdoor performer Maruba
Seeds per packet circa 500 (3g)
Grown & Harvest in the Bailiwick of Guernsey, GB.